Alright, kiddies, this post has one of the best recipes I have in my book. And frankly, one of my specialties. It only took me 3-4 times to master it, but it was well worth it. This is Christopher's ultimate favorite cake and I make it for him every year for his birthday. (Sometimes he even gets two because his mama will make one as well!) Stay tuned...
Things are starting to get better with the boy, he's sleeping much better at night now, and just a lil bit longer each time. However, he seems to like to fight eating. He'll push the bottle away and scream at you and when I try to nurse him, he'll eat until it's no longer pouring out of me and then just looks at me like I'm crazy for making him eat more.. which only lasts maybe 10 minutes. But he doesn't act hungry.. he just wants to hang out and stare at you. We have an appointment tomorrow and I'll mention it.. I'm not sure what to do! His surgery is scheduled for the end of the month and I can't believe it's so soon, but it should have also happened a lil over 4 months ago. So I guess the fact that they can do it, is great.. but still makes me uneasy. I suppose I wouldn't be a good mom if I wasn't worried about surgery on my munchkin.
Falon is doing great.. she's such an awesome big sister! Always wanting to help.. she holds him, burps him, helps him sit up, feeds him, etc. Now, if I can just get her to change his diaper, I won't need a babysitter anymore! (I think she's scared of Ye Old Faithful spouting!)
Christopher got his truck appraised for the hail damage from the storm back in May.. we almost had to get rid of the truck considering the damage was almost more than what the truck was worth. But, things went our way, we get to keep the truck (which is very important because it was his dads) and they're gonna cut us a check for the damage. Yay! All we need to do now is find a money tree.. that way I can take a sledgehammer to my car and blow it up (for super reals, how effing fun would that be?) and get a new one!
I start my new schedule at work next week, and I'm actually pretty excited. I have Sundays/Mondays off, which guarantees me Christmas and New Year's off AND the day after my birthday (which I plan on doing a crawfish boil for, oh yeah)! So this week will be rather short for me. It's a 4 day work week, and I only work a half day tomorrow because of the boy's doctor's appointment. Yay! Also, I am super stoked about a fellow bloggers birthday party next month! Don't worry, there will be pictures!
Now, on to the good stuff! This issue has a recipe for a Red Velvet Cake, and it is GLORIOUS. This also comes with it's own special icing recipe. Most people use a cream cheese icing, and while I LOVE cream cheese icing, I think the sweetness of it takes too much away from the slight chocolate flavor of the actual cake. So this is just a sweet butter and milk icing.. NOT to be confused with buttermilk.
What you'll need:
2 oz red food coloring
2 heaping tsp of cocoa
1/2 cup of shortening
1 1/2 cups of sugar
2 eggs
1 cup of buttermilk (if you don't have this, I have a trick for making some that makes no difference in the taste/texture of the cake!)
1 tsp of vanilla
2 1/2 cups of flour
1 tsp of salt
1 tsp baking soda
1 tbsp of vinegar
Preheat the oven to 350 degrees. Secondly, mix together the cocoa and red food coloring.. this is important because it won't splash in the batter and get it all over that pretty face of yours when you start mixing. Set it aside and in your mixing bowl, cream together the shortening and and sugar. Add the eggs one at a time, beating well after each addition. Now add the red cocoa and mix thoroughly. Pour the vanilla into your cup of buttermilk and set aside. [[Pro tip: if you don't have buttermilk, and I never do.. you can take a tablespoon of vinegar and add regular milk to that until you reach a cup. Let it sit for 5-10 minutes. The milk will look curdled and nasty and the smell will make you want to shoot yourself, but it's fine, I promise! This is equivalent to buttermilk and will not alter the cake in any way!]] Sift together the flour and salt. This next step is VERY important, otherwise, you won't get a smooth batter and the cake will turn out dry. Alternate additions between the buttermilk/vanilla and flour mixtures. Start with the liquid and end with the liquid. How little or how much doesn't matter. As long as you alternate and start and stop with the buttermilk/vanilla. Beat JUST until it's mixed. If you over mix it, you're done for. Take the baking soda and pour into the tablespoon of vinegar, let it bubble up (like a volcano!) and make sure all the baking soda has dissolved.. FOLD this into the cake batter until just mixed in. This will make the cake light and fluffy!
Divide the batter into two round 9" pans and cook at a preheated 350 degree over for 25-30 minutes, or until it passes the toothpick test. When done, set aside on a cooling rack and let the cakes cool completely. Leave them in the pans though, if you take them out, they'll dry out fast.
While the cakes are cooking/cooling, you can start on the icing. Since that needs to cool as well.
What you'll need for the icing:
3 tbsp of flour
1 cup of milk
1 cup of room temperature butter
1 cup of sugar
1 tsp of vanilla
Cook the flour and milk in a small sauce pot until thick. Don't leave this alone, you have to constantly mix it so there are no lumps. Set aside and let cool completely. When everything is said and done and cooled off.. in your mixer, blend the butter, sugar and vanilla together. Add the milk/flour concoction and beat until it's a whipped cream texture.
Cut the two cakes in half and stack on each other with a layer of the icing in between. Now ice the whole cake down and dig your face in! Enjoy! It's awesome. I tell no lies.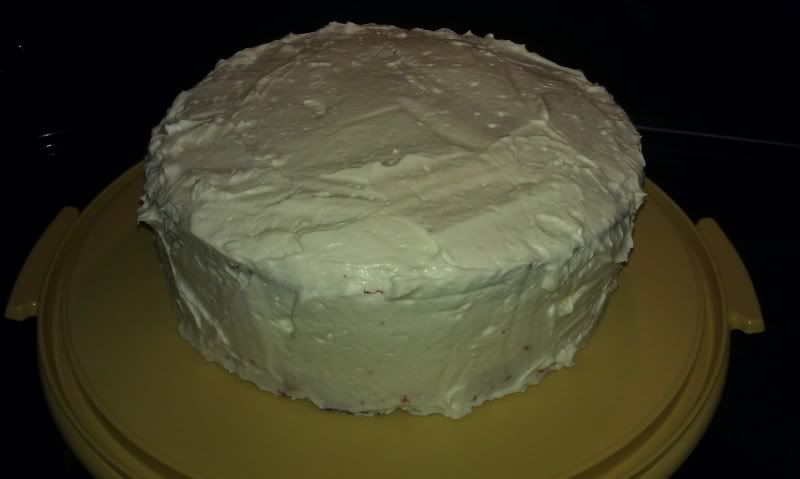 The finished product!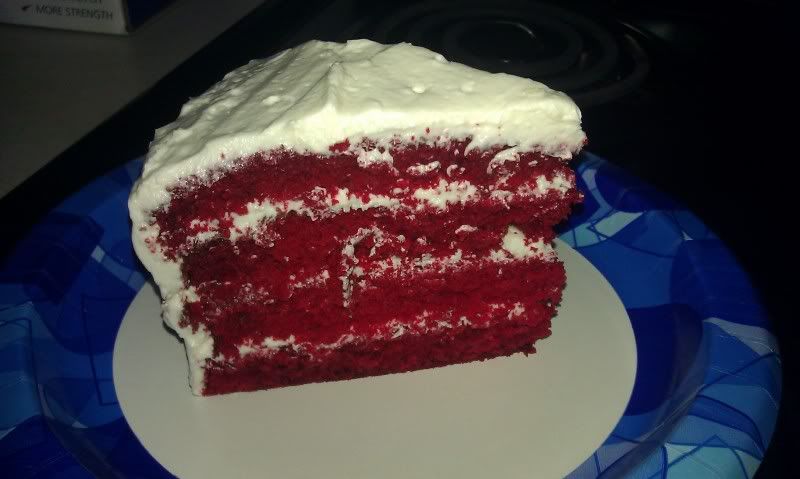 And a slice for your eyes.
Now, go to HEB, and get your red food coloring (since you prolly have everything else in your pantry) and get to baking!!
And you're welcome in advance.