Oh yeah, this post has a recipe for a Chocolate Pie, from the brilliant mind of our Aunt Linda. This woman is a genius in the kitchen, she just threw this together one day and is now a staple in the family!
But before getting to that, I need to brag about my kids, because that's what I do.
Actually, nothing's really changed. Falon is still sassy as can be (she gets it pretty honest, I won't lie), and talks about going to school every day. I don't think I ever remember being excited about school, and now that I think about it, I would go back in a heartbeat. It wasn't school that I liked, but seeing all my friends daily. These days, I'm so busy with work and the kids that I don't keep up with all my friends like I should. Even a random text saying "How have you been?" would be nice, but I just don't think about it. I was telling Christopher the other day how I wish we could just go out, have fun and make fools of ourselves and do it every weekend. I didn't realize how lame we were! Haha. We need to go out and do something crazy. Any suggestions?
Baby Rhy is growing up so quickly! Does anyone know how I can stop it? I had a dream the other night that he started walking, like RIGHT NOW.. as in at 4 months old. I woke up freaking out, what a nightmare! If you haven't already, go check out the videos on my Facebook page, there's a video of him rolling over. Afterwards, he's out of breath, but holds his head up like he's so proud of himself. "Look what I just did!" I just love it. He's trying really hard to sit up on his own, too. It's more he's just leaning forward and plays with his feet, so not really straight up, but getting there! He's also teething already as well. He's behind Falon though! Falon got her first two teeth at 4 months old, so Rhy isn't trying to grow up as fast as she is. We haven't gone to his 4 month well check yet, schedules kept conflicting so we will be going next week to see how big he's gotten since his 2 month checkup! Next thing, he'll be eating on his own.. which reminds me, I think we need to start feeding him solids. My milk just isn't enough for him these days! I'm so depressed!
Christopher is still hating work, but we do what we need to keep the family going. I'm hoping he has some good news soon for a new store that will be opening up and he can transfer. Get him to a place where he can excel and have the opportunity to start an actual career. Send us hope and love, we need it!
Alright, I suppose I could get to the good stuff now. This pie is waiting at home for me.. at least I hope so. Between Christopher and Falon, not too sure if anything will be left. We'll just have to see..
Like I mentioned in the beginning, this recipe was created by our Aunt Linda, who I could imagine can make even tree bark delicious. This is one of Christopher's favorite and is so easy, a caveman could do it. Har har har. This is usually made with a homemade crust (also another one of Aunt Linda's) and homemade whipped cream.. BUT, I couldn't find my crust recipe (and I'm going to tear my kitchen apart to do so) and we decided to go super easy and got some Reddi-Whip. Yes, the cowardice way to go, but I really wanted a chocolate pie and didn't want to have to work any harder to do so.
This is what you need:
3 egg yolks (if you want to top with meringue, save the egg whites!)
2 cups of milk
1 tsp of vanilla
1 cup of sugar
2 heaping Tbs of cocoa
1/2 cup of AP flour
1 stick of butter
1 crust (I'll find my homemade crust recipe SOON!)
Thoroughly stir the egg yolks, milk and vanilla into a homogenous mixture. In a non stick pot, sift together the sugar, cocoa and flour. Slowly add the liquid mixture to the dry ingredients while mixing to avoid lumps. Cut up the butter into tablespoons and add into the pot. Now stick the pot on the stove over medium heat. You have to constantly stir the mixture, a whisk works best, for almost 15 minutes, because it'll get thick and you don't want a lumpy pie! Get it to the consistency of pudding.. but you can make it as thick as you want, just keep cooking it.
Once you've gotten it to your desired consistency, pour in the crust and let sit for about 30 minutes to cool off. Cover with plastic wrap or with a pie cover and stick it in the fridge and chill it for at least 4 hours. The colder, the better, obviously.
You can top this pie with whatever you want. Christopher is a big whipped cream fan, so that's what I usually put on it. If you want to top with meringue, go to this blog:
Adventures in my Kitchen
, as Susan just posted a meringue recipe!
Get to it! You have all the ingredients (except for maybe the crust, but can be easily solved) to make this, so why are you wasting time??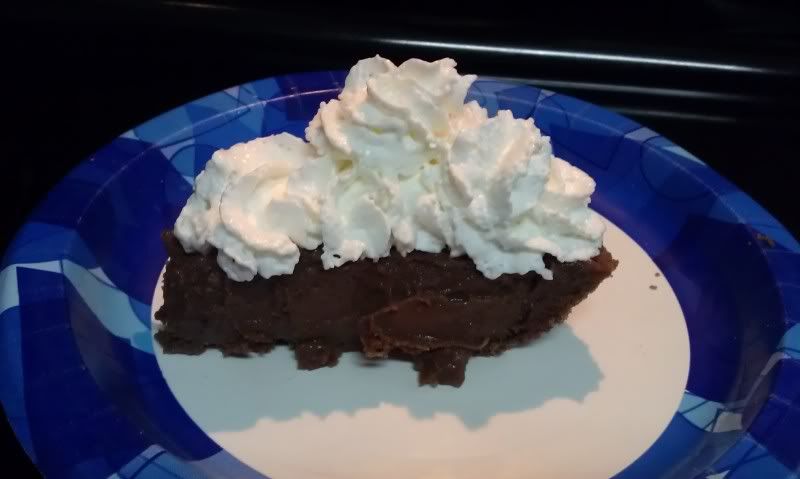 It was very difficult to take a picture of this first and THEN eat it. But here it is! This was made with the premade Chocolate Graham Crack Crust and a healthy helping of Reddi-Whip! Nom nom nom!